Vinovest Review
When looking to invest in alternative assets- why not fine wine? With inflation going up, and the stock market going down, investors are looking for a place to put their money to earn a decent return.
Vinovest offers investors, big and small, an opportunity to invest in fine wine. This Vinovest review will help you understand this new – yet ancient market.
Investing allows you to buy an asset you understand and believe will increase in value over time. Historically wine has been a good investment for the elite, and now, thanks to companies like Vinovest, anyone can invest in fine wine.
According to Vinovest, the fine wine market does not correlate with the stock market. A diverse portfolio is wise for all investors. Today you can invest in stocks, bonds, gold, real estate, art, collectibles, and even wine.
Follow this link to get started with Vinovest.
Vinovest Overview
Vinovest was started by a team of experienced entrepreneurs that understand funding, technology, and of course wine. Several of the key staff members are also sommeliers. Sommeliers are trained and knowledgeable wine stewards that have taken exams involving all aspects of wine.
Specifically, Vinovest was founded in 2019 by Anthony Zhang and Brent Akamine. Both founders have developed other successful companies and have proven leadership experience.
Vinovest is located in southern California and has storage agreements globally, and several employees live overseas.
Vinovest also claims to have 8,000+ trusted clients and a track record of 16% annualized growth. However, not much data is available to back up these claims.
Vinovest will help you acquire, store, and sell the wine you invest in. Likewise, you may have the wine shipped to you, or Vinovest will store the wine on your behalf. And, yes, of course, you can drink it.
Highlights
Minimum to invest = $1,000
Fees 2.25% – 2.85%
AI-powered portfolio
Your wines are insured
You can sell at any time but, it can take 2 to 4 weeks
How does a Vinovest Managed portfolio work?
After opening an account and funding it this is how Vinovest works:
You tell Vinovest your risk tolerance and investment preferences, and their Master Sommeliers and AI platform creates an investment strategy to build your portfolio of wine selections.
Vinovest searches for the best prices and acquires the wine for you via wholesale deals. Buying the wine can take 2-3 weeks.
Vinovest inspects and ensures your wine is legit, and arranges for secure storage. You can also choose to have your wine shipped to you directly.
You can sell the wine any time but may face penalties if you don't hold it long enough. Vinovest recommends a holding period of 5 to 10 years. They charge a 3% early liquidation fee for selling within 3 years.
Vinovest Managed Account vs Trading Account
Along with a managed portfolio option, you can also select your wine with Vinovest's trading accounts. Vinovest operates an online marketplace that allows you to buy specific wines.
You can buy them by the bottle or by the case. Vinovest urges new wine connoisseurs to start with a managed account before attempting to build their portfolio.
The fees differ based on your account size and whether or not you are trading on your own – or allowing Vinovest to manage your portfolio.
Regardless of account type, the fees cover management costs, storage, and insurance.
The managed fees range from 2.85% for the $1,000 entry-level and down to 2.25% for the accounts with at least $250,000. When you trade on your own there is a transaction fee but no annual fee. The transaction fee covers storage and insurance too.
The fees for trading accounts are as follows:
2.5% buy side (includes three months of storage)
1% sell side
1.5% yearly storage fee – taken from your balance monthly
A trading account has no minimum. Investors only need enough in your account to cover the cost of the wine you wish to purchase, plus any transaction fees and shipping fees.
Your managed account and your trading account are two separate accounts. Therefore, you can't open a managed account and then plan to select a few choice wines on your own. You can open/fund both accounts if you wish.
Wine Portfolio
So, what would a $1,000 wine portfolio look like?
Taken straight from Vinovest's marketplace of highly recommended options:
🍾 1 Bottle (750ml) 2018 Fontodi, Flaccianello Delle Pieve, Colli Della Toscana Centrale – last trade $317
🍾 1 Bottle 2016 Solaia, Toscana – last trade $390
🍾 1 Bottle 2017 Domaine Roulot, Bourgogne, Blanc – last trade $204
🍾 1 Bottle 2013 The Mascot, Cabernet Sauvignon, Napa Valley – last trade $145
That is approximately $1056 in fine wine. The list was taken directly off of Vinovest's marketplace on 9/30/2022. The four selections are the four bottles that show up first as sorted by recommendation.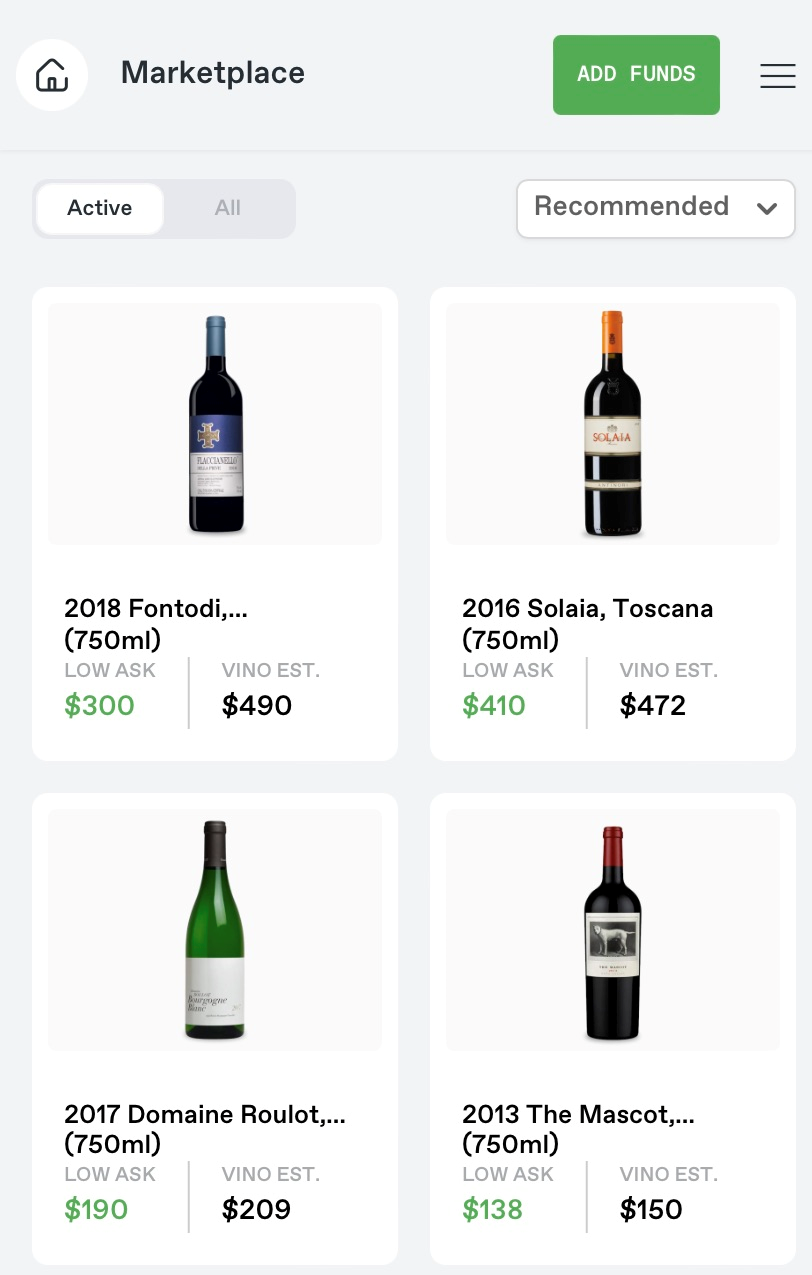 Vinovest 9/30/2022
Conclusion
Investors should invest in something they enjoy and an asset with a track record of increasing over time. Vinovest may be a good investment for those looking for a way to hedge against economic uncertainty and inflation. We hope this Vinovest review will help you make an informed decision.
Fact Check
We strive to provide the latest valuable information for our readers with accuracy and fairness. If you would like to add to this post or advertise with us, don't hesitate to contact us.  If you see something that doesn't look right, contact us!