High Paying Ad networks that pay well – Top 7 Google Adsense alternatives in 2022
Are you interested in learning more about Ad Networks and how they might assist you in earning money? If you aren't aware of this, then the following information may be of assistance.
Google Adsense is known to be the most widely used monetization tool in the market, for both new and seasoned companies. The platform provides all forms of ad content that are appropriate for the varied spectrum of audiences that are still growing.
It is regarded as one of the highest-paying ad networks, and it is gaining popularity as a result of its features, which include high-quality advertisements and the ability to connect with viewers.
Many people, on the other hand, have pondered where they may locate Google Adsense competitors that can function as high-paying ad networks.
Not only does Google Adsense provide you lucrative CPM and CPC rates, but so do many other ad platforms without causing your site to load slowly. It can be concealed with the help of the following list.
Ezoic is an ad network that is powered by artificial intelligence and has the potential to have a direct impact on your revenue, performance, and user experience.
It calculates the most appropriate settings for the advertisements you display on your website based on the characteristics of each individual user.
You will also have the opportunity to experiment with other rules, preferences, and trials in order to produce a report that will show you which ones are the most effective.
The analytics and capabilities provided by this ad network can be used in conjunction to help you generate more cash with far less effort overall.
Distribute direct advertisements on your website or blog and earn extra money without putting in any effort.
The BuySellAds marketplace is an excellent location to generate additional income streams on top of the ones you already have. It used to be difficult to locate people who were willing to pay a reasonable sum for advertising on our blogs, but that is no longer the case thanks to this service.
BuySellAds makes the entire procedure quite simple. You, as a publisher, can list your website on their marketplace, complete with statistics and details, and advertisers can purchase advertising space on it directly from your listing. It goes without saying that you will have the opportunity to accept or reject an offer, and it is always recommended that you choose offers that are related to your area.
Once you accept an offer, the advertisements will begin to appear on your website, and you will be compensated in accordance with the agreed-upon amount.
It is completely free to sign up for this marketplace and begin earning money. It charges money after a transaction is completed, with a 25 percent fee charged because they are serving as a "middle man."
That being said, you have complete discretion over the prices you set and the types of advertisements you choose to display on your website.
Earnify is a self-serve native advertising platform that allows you to drive a lot of traffic to your landing pages without spending a lot of money.
The platform is connected to all of the main advertising networks, allowing you to grow your campaigns to a larger audience. Earnify's mission is to provide advertisers with greater exposure through a single platform while also increasing the earnings of publishers.
Features:
Superior Targeting
Fraud Prevention
Conversion Optimization
Transparent In-Depth Analytics
You should look into Nativo if you are seeking for a platform to run native advertisements. A consolidated platform that caters to both publishers and advertising, it is called Publisher Central. It equips you with the tools you need to have the greatest impact on the client journey imaginable.
Increasing meaningful engagement, which in turn leads to higher click-through rates, is the goal of Nativo. There are no limitations on the number or types of native ad units that can be used, and all of the native formats are ready to use straight out of the box.
Features for Advertisers:
Premium publisher-directory inventory
Use machine learning to boost the reach
Exclusive formats
Guaranteed highest quality reach
Features for Publishers:
The complete native ad platform
Use Programmatic to your advantage
Manage native monetization
Works across multiple websites
Support for native articles
Adblade is an advertising platform with a user base of more than 300 million people. Both publishers and advertisers benefit from it because it provides access to both premium local and national sites. It, like other advertising platforms, offers content type options that are tailored to your specific needs from the beginning.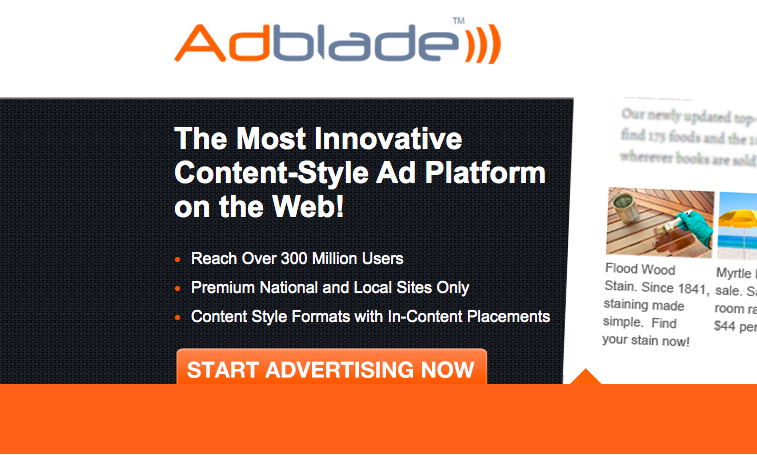 Features for advertisers:
Target audience precisely
Users can scale campaigns
100% brand safe
Robust reporting
Features for publishers:
Proper monetization solution
Both advanced and standard Ad units are available
Strong sales control
Robust reporting
This particular ad network is a fantastic and revenue-boosting alternative to low-paying ad networks that may be found elsewhere. Newor Media is a high-paying ad network that, via the use of high-quality ad units, has the potential to significantly boost your overall earnings. It makes use of algorithmic real-time bidding and machine learning to provide you with one of the most competitive rates available in the market.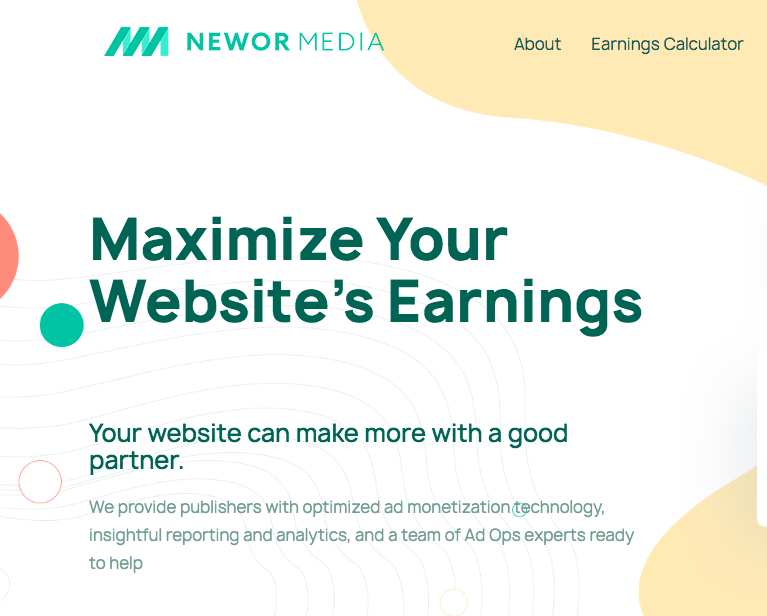 Their ad units are integrated with many other ad networks, including AdSense, Outbrain, and Revcontent. As a result, once you join up and begin utilizing their ad units, you can anticipate ads from any of these networks to appear. Newor Media, on the other hand, ensures that only the highest-paying advertisements are prioritized for display on your website.
As banner ads, the majority of their ad sets are displayed on your website, and while having any advertisement on your website might have an affect on its loading time, this one is a little better at dealing with it when compared to some of the other ad network partners. They load their advertisements asynchronously, which means that your website's content is loaded first, and then the advertisements appear on the screen.
It has an in-depth earnings reporting system that is updated on a daily basis and includes important information such as average RPM, average CPM, total clicks, total impressions, and so on.
There's also a fantastic support crew that responds incredibly quickly and knows how to address problems like a professional.
You may boost your ad revenue potential by using MonetizeMore's high-performance Ad technology, which is made available to you through our partnership with Google.
They also provide access to specialists that operate in an open and transparent manner. The platform allows for extensive ad optimization customisation as well as complete ownership of your ad inventory, all with complete visibility.
#7. Media.net
Media.net is very much an advertising platform that can assist you in maximizing your revenue opportunities. Additionally, it provides you with access to a large number of marketers. Not only that, but you also receive marketers who are relevant to the material you are producing.

The Ad Network, which offers marketers with instant access to the marketplace and vice versa. The media.net offers relevant advertisements that enhance your content and allow it to shine. In addition, you will have access to a substantial buyer network.
Conclusion
For those who are trying to monetize their blogs, there are a variety of options to consider. These include affiliate networks, offer walls and branded content, just to name a few examples.
Ad networks, on the other hand, can be a terrific way to make cash without having to invest a lot of effort. So, learn about the top advertising networks and start earning money.
Questions People Are Asking
What ad network pays more than Google AdSense?.
Media.net is a direct competitor to Google AdSense, and it is owned by Yahoo and Bing. It is one of the largest contextual advertising networks in the world, and it is used by well-known brands all over the world.
What AdSense advertisements are the most lucrative?
insurance is the Top AdSense Niche Markets in the United States
Insurance is by far the highest paying niche in the United States, with an average cost per click (CPC) of $17.55 in the country. This category encompasses all sorts of insurance, including health, house, auto, and life insurance, among others.
Is Google AdSense still a lucrative business in 2020?
Answer in a nutshell: yes. Adsense is still extremely profitable, and it is possible to make money using it.
Is Ezoic a better alternative to AdSense?
So, certainly, Ezoic has not only raised my site's earnings, but it has also increased the amount of traffic that my blog receives. As you can see, there is a significant difference between Adsense and Ezoic earnings, and Ezoic is clearly the victor in this case.
Is MediaNet a better alternative to AdSense?
In general, Media.net is preferable, but you should combine the two and use them in diverse ways. Media.net for in-content contextual advertisements in product-heavy niches, and AdSense for ads above or below your content or in product-light niches are two examples of ad networks to consider.
What does Google AdSense pay per 1000 clicks look like?
In the following example, if you received an anticipated $0.15 from 25 page views, your page RPM would be equal to ($0.15 / 25) * 1000, which would be $6.00. For example, if you earned an expected $180 from 45,000 ad impressions, your ad RPM would be equal to ($180 / 45,000) * 1000, which is $4.00 per thousand impressions.
Is it possible to use propeller advertisements in conjunction with AdSense?
Propellerads can be used in conjunction with AdSense at any time. You are permitted to insert up to three pop-up advertisements on a page where AdSense is displayed, according to Google policies:
Are AdSense advertisements more effective than propellers?
Therefore, PropellerAds is able to create a higher revenue than AdSense as a result of this. Propeller Advertising, on the other hand, are less stringent in terms of product policy than AdSense, and as a result, the quality of ads displayed is often worse than what one would see through AdSense.
Is it still possible to generate money with AdSense in 2022?
Yes, you can earn money from an established blog that receives a lot of traffic and visitors by utilizing Google AdSense.
Is AdSense arbitrage a legitimate business model?
Yes, there are if you go about it in the proper manner. My cost per click is $0.01, and I receive over 35K impressions and nearly 2000 clicks on my website, as you can see.
The most crucial thing to note here is that these clicks represent genuine website visitors who have been targeted!
Is there a single advertising platform that is the most popular in the world?
Google
That so, Google is still by far the largest advertising platform, accounting for 37.1 percent of the market, with Facebook coming in second at 20.6 percent.
However, by 2020, Google and Facebook's market shares will have declined by a few percentage points apiece, as Amazon's ad share continues to expand at an exponential rate.
Conclusion 
We hope you enjoyed this article… What are your thoughts on High Paying Ad networks that pay well – Top 7 Google Adsense alternatives?
Please feel free to share with us in the comments section below.