Six Major Signs to Replace Your Refrigerator
Home appliances and equipment make our lives easier and have a long-term lifespan. They can stay in good condition for years if the owner manages them well.
Technology initiates new things for individuals to purchase every day, including gadgets that make the house more comfortable.
Kitchen appliances like the Refrigerator and the Microwave are in constant use, especially for individuals who like to cook.
The Refrigerator has a long life span, especially if you follow the maintenance processes. Therefore, it is tough to detect if it is time to replace your refrigerator or not.
Some people base their intuition on the number of years they have used it, while others change it when they have the money. Sometimes, you keep using your fridge without servicing, as long as you do not detect any weird sound or issue.
There are many things to show that you need a Refrigerator replacement instead of a repair, as constant repair reduces the working condition of your fridge.
Before your Refrigerator stops working altogether, some signs tell you that it is wearing out. To check the working condition of your Refrigerator and to know if you might need replacement, check for:
Constant Freezing Iceberg
Although it is not normal for you to clear ice before you reach your bowl of blended tomatoes, it can happen once in a while.
When you find yourself clearing off the ice, defrost your refrigerator, let it cool for a time before you plug it back. If you have to clear ice again, you might need a new refrigerator.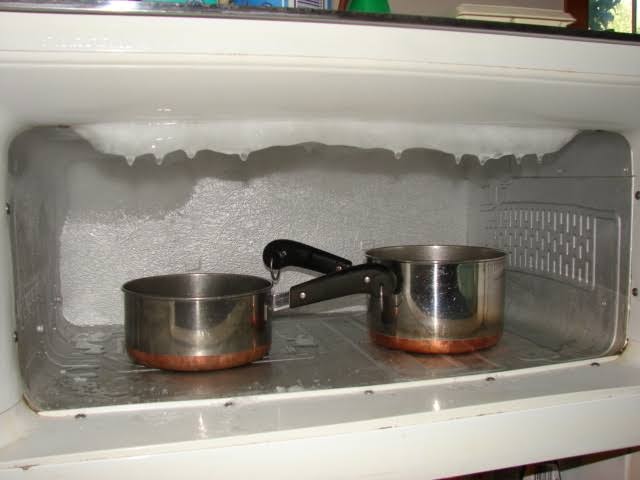 Sometimes freezing icebergs may occur in a new freezer, which must be taken seriously to avoid wear and tear. Although new freezers come with an automatic defrosting feature, it is essential to service yours if you notice an iceberg problem quickly.
Hot Motor
In most electronic gadgets and appliances, high temperature seaming from any part is not a good sign in any way. It indicates that the system's operation is heating parts of the device at an alarming rate.
It is okay to feel a warm temperature when you touch the back of your refrigerator, but it is not okay when you feel excessive heat.
The insulated coils at the back of your refrigerator keep the heat from the working operation to a minimum. If your freezer is new, you may consider servicing it and replacing the insulated coils. But if it is an old fridge, you should probably get a new one before it causes more problems.
Undue Condensation
Excessive water droplets in your freezer, even when it's plugged into a power supply, are a top sign that your fridge is not in good condition. Also, if there are water droplets on your refrigerator, it might be a cooling problem.
The rubber sealing around the fridge door helps calm and prevents outside air from getting inside the fridge.
The moisture droplets on your freezer might be from a hole in the rubber sealing. Check to see if it is something you can fix or take to a professional.
If the water droplets continue after you get a professional to service the freezer, you should probably get a new one before the moisture starts spoiling your food.
Weird Running Sound
The working sound of equipment is the easiest way to know if it has a problem, mainly if you have used the appliance for a long time.
Although the refrigerator makes a quiet running sound, it is easy to tell if the sound has changed or the hushed rhythm has become an irritating buzz.
Sometimes you may try to 'knock knock fridge' to get it to behave. The knock-knock fridge is a very modern and stylish Refrigerator. It keeps your food fresh.
If you notice the sound, try switching it off and replugging it into the power supply or opening the fridge doors.
If the sound remains, you can call for professional help or buy a new freezer if it is an old fridge.
High Repair Costs
When you keep repairing a device, it reduces the working condition of that equipment and gradually maims the strength of parts of the device.
If the repair cost is more than half the price of the refrigerator cost, you should consider getting a new fridge to reduce costs. A failing freezer becomes hard to maintain as it completes its life cycle.
8 – 12 Years Life Span
The Refrigerator is one of the few home appliances with a long life span of 10 – 20 years. The latest models have the maximum life spans, as technology reduced the energy expenditure during initiation.
If you have used your freezer for a decade, you should consider changing it to a newer and more reliable model to lessen maintenance costs.
Conclusion
Servicing home appliances once in a while helps to reduce sudden bumps or changes in the working operations. Always look out for energy efficiency when shopping for another refrigerator to avoid unnecessary costs.
Refrigerators are essential in the home or even the workplace. Once you notice anything abnormal with your fridge, consult your technician.
Finally…
We hope you enjoyed this article… What are your thoughts on 6 Major Signs to Replace Your Refrigerator?
Fact Check
We strive to provide the latest valuable information for our readers with accuracy and fairness. If you would like to add to this post or advertise with us, don't hesitate to contact us.  If you see something that doesn't look right, contact us!
Please feel free to share with us in the comments section below.